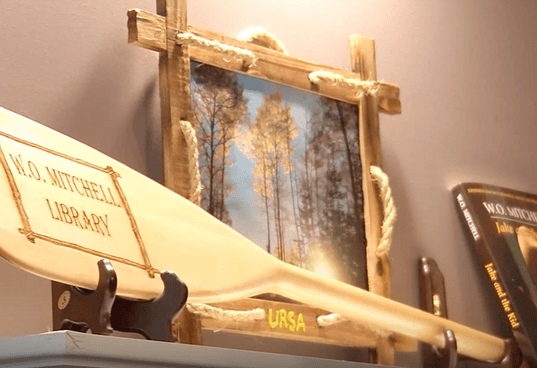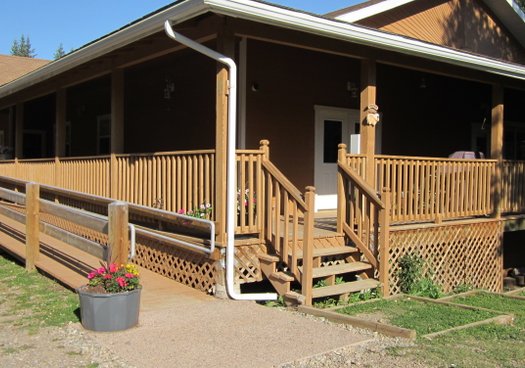 "

Amazing food! Clean and beautiful surroundings!"
~ Nustadia Recreation
What we offer
Shared sleeping accommodations for up to 20

Main retreat area with meeting & day use space for 46

Catered meal service ( Breakfast l Lunch I Dinner )

Full Accessibility

Barn with loft hall space above for 60

Covered fire pit and seating for 20+

Wraparound decks with BBQ's

18 acres of forested land with open hiking area
Nestled in 18 acres of truly Albertan streams, trees and wildlife is the URSA Retreat Centre. A gathering place for small groups and organizations to reconnect and learn. Our retreat centre welcomes people of all abilities and supports a mission of inclusiveness and accessibility.
403.272.7722
retreat@ursa-rehab.com
Please complete this form to request a booking at the URSA Retreat Centre.
Rates include dinner on check-in day, 3 meals a day for each full day of the booking, and breakfast on checkout day. Meals are "camp-style" and we are unable to accomodate food preferences.
A 50% non-refundable, non-transferable, deposit is due upon receipt of invoice to secure booking. Bookings will not be confirmed until the required deposit is paid in full. The deposit will be included as part of the total fee for your stay.
Tim Ross Memorial Award
An honour to recieve and to be recognized for outstanding contribution, commitment, dedication, and service by the Alberta Camping Association.
Derrick Clarke,

W.O. Mitchell URSA Retreat Centre 2018
222 2018
GATHER




​

Our 40-seat main hall is ideal for small corporate and community groups. Tables can be arranged to support facilitated learning, group activities and shared meals. Our 20-bed lodge, with adjoining bathrooms, means groups can stay on-site for the duration of their booking.
CREATE
On themes of inclusiveness, we welcome groups to learn and create together. Regardless of why you visit our center, we hope you will leave rested and reflective. (And, of course, eager to return!)
DISCONNECT
Our facility offers limited

technology, allowing visitors a space to reconnect and unwind. This can be a powerful experience - one that fosters human connectedness, listening and learning.
REDEFINING "RETREAT"
​The Retreat Centre and land was obtained in 2009 by Universal Rehabilitation Service (URSA) with the single purpose to create a retreat space where all individuals, regardless of abilities, can experience the beauty of a relaxing and calming retreat. URSA has welcomed individuals with developmental disabilities and their families with a space specially designed to suit their needs.
To cover the cost of the centre, and to ensure that we can continue to make our space available to all, we invite groups who share our values of inclusiveness to visit and rent our centre for private bookings.
GROW
​Our facility welcomes groups to learn, eat and rest in a one-size-fits-all space. With a stone fireplace seating area, W.O. Mitchell library, recreation room, wraparound decks, and acres of space to explore, our retreat center is a place of contemplation.
CONTACT US I BOOKING REQUEST
"Warm & welcoming. Beautiful place. I will go home feeling refreshed."
~ Sunrise Healing Lodge
"

The Retreat Centre is always great! Thanks for making it so
spectacular."
~ Between Friends
M

unicipal address 50082 -Township Rd 283

Just West of Dartique Hall - Horse Creek RD & TOWNSHIP 283